CCC Holds Open House for New Makerspace
Oct 14, 2021, 11:53 AM by CCC Staff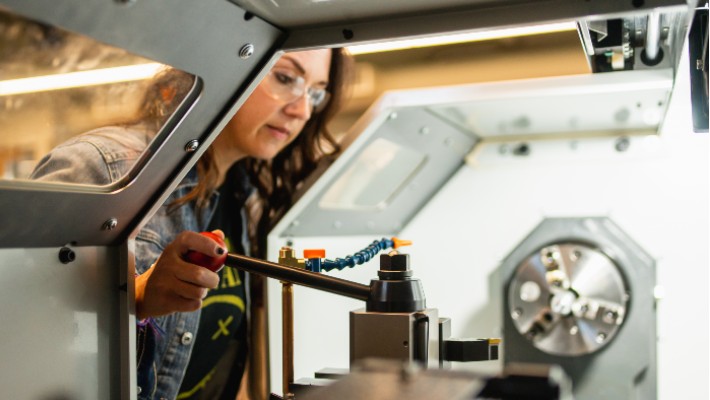 OREGON CITY – Clackamas Community College is holding an informal meet and greet for its new Les de Asis Makerspace on Oct. 15, 4-6 p.m.
Located in the Holden Industrial Technology Center on the Oregon City campus, the makerspace is a workshop where creative people from all walks of life can have access to the tools they need to create prototypes, models and masterpieces.
After proper training, participants will have the ability to use equipment ranging from basic woodworking machinery and 3-D printing to CNC milling, plasma and laser cutters. The lab includes woodworking and construction, traditional metalworking and sheet metal, a welding and cutting station, digital manufacturing, and electronics and sewing.
The CCC makerspace is the first of its kind in Clackamas County, possessing the capacity to expand into specialized sections of the college's advanced manufacturing center, which provides skill-based training in industrial technology.
The public is invited to come by for an informal introduction to the Les de Asis Makerspace. This is a meet and greet for anyone who is interested is teaching, volunteering or participating in the rollout of maker workshops and classes that are happening over the next several months. Learn about the wide variety of traditional and digital tools that are available for woodworking, metalworking, CNC machining, 3-D printing and more.
Register to attend at https://www.eventbrite.com/e/makerspace-open-house-for-volunteers-teachers-and-participants-tickets-188681911677. Prior to coming to campus, participants must complete the college's Daily Self-Health Check, which can be found at www.clackamas.edu/return-to-campus. Masks and social distancing are required.
For more information about the makerspace, visit www.clackamas.edu/makerspace. Questions? Contact Mike Mattson at 503-594-3322 or mattsonm@clackamas.edu. Clackamas Community College is located at 19600 Molalla Ave., Oregon City.