COVID-19 update

Most classes, events and college operations are remote for fall and winter terms due to COVID-19. For details on the return to campus plan and limited on-campus activities, visit the Return to Campus page.
Alexander Gallery
The Alexander Gallery gives students and the community a chance to experience contemporary works made by emerging and established regional artists. The 900-square-foot space is located in the Niemeyer Center on the Oregon City campus and features two rotating exhibits each term. Artists explore a variety of disciplines, including drawing, painting, photography, sculpture, digital media and installation. Each spring, the gallery showcases works made by CCC students in its annual Student Art Show.
During the school year, the Alexander Gallery is open Monday-Friday, 9 a.m.-5 p.m. During the summer, the gallery is open Monday-Thursday, 10 a.m.-3 p.m. Admission is free. For further information please contact Kate Simmons at 503-594-3032 or kates@clackamas.edu.
Current Exhibition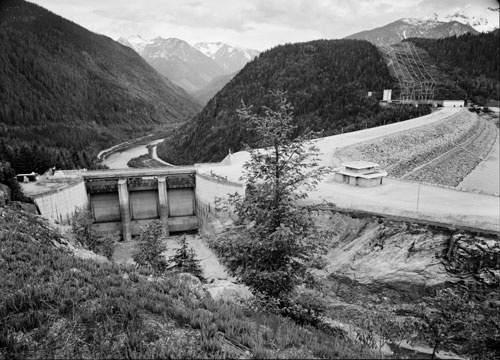 "The Great River of the West" by Robbie McClaran
A photographic survey of the Columbia River from its source in British Columbia to its mouth at the Pacific Ocean.

Jan. 4-Feb. 5, 2021
The Alexander Gallery is pleased to support "The Great River of the West," a virtual exhibition of photographic images by Portland-based artist, Robbie McClaran on view Jan. 4-Feb. 5, 2021. A Zoom artist talk will be held Wednesday, Jan. 27 at 1 p.m. "The Great River of the West" is a photographic survey of the 1250 mile long Columbia River, from its source in the Canadian Rockies, to the confluence with the Pacific and explores its current cultural and economic landscape with an eye toward its significance in the history of the Pacific Northwest and North America.
This collection of photographs is a sampling of McClaran's documentation from over the past seven years. Robbie McClaran is an award winning photographer, whose work focuses on the American people and landscape. His work has appeared in publications including The NewYork Times Magazine, Time, Smithsonian, Rolling Stone and Sports Illustrated and has been collected by institutions including the Portland Art Museum, Ogden Museum of Southern Art and Walker Art Museum.
The Alexander Gallery supports the work of established and emerging artists. This exhibition and artist lecture is made possible by the Alexander Gallery endowment. For further information about this exhibition please contact Kate Simmons at kates@clackamas.edu or 503-594-3032. More information can also be found on the Clackamas Community College art website.
Past Exhibitions
"Disillusionment" by Edie Overturf | Sept. 21, 2020
Student Art Show | May 14, 2020
"Fun di Volt: From the Vault" by Ben Killen Rosenberg | Feb. 18, 2020
"this is from that" by Tom O'Day | Jan. 6, 2020

"The Development of an Art Practice" by Justin Taylor | Nov. 25, 2019

"Simmer" by Kate Simmons | Oct. 9, 2019

Other galleries
As the center for cultural arts in Clackamas County, CCC wants you to experience art in a number of locations and on every campus. The Pauling Gallery on the Oregon City campus hosts experimental, student and community art shows, while the Harmony and Wilsonville campus galleries host quarterly exhibitions for a variety of artists.
Wilsonville Campus
No exhibitions are on display at this time.
Harmony Campus
No exhibitions are on display at this time.
Oregon City Campus
PAULING GALLERY

No exhibitions are on display at this time.